Pan Baltic Scope 2018-2019
Pan Baltic Scope was a collaboration between 12 planning authorities and organisations around the Baltic Sea in 2018 and 2019. We brought better maritime spatial plans for the Baltic Sea Region.
The project was led by SwAM together with the responsible authorities from EU countries around the Baltic Sea. Further partners were HELCOM, VASAB, Syke and Nordregio
Pan Baltic Scope
The objective of Pan Baltic Scope was to achieve coherent national maritime spatial planning in the Baltic Sea region and to build lasting macro-region mechanisms for cross-border MSP cooperation.
The project was designed to support the implementation of the EU MSP directive and the objectives defined in the EU BSR Strategy, Blue economy and EU2020 Strategy as well as the HELCOM Baltic Sea Action Plan and VASAB Long Term Perspective for the Territorial Development of the Baltic Sea Region.
The project focused on:
Cross-border Collaboration and Consultation to Support National MSP-processes.
Advancing the Implementation of the Ecosystem-Based Approach and Data Sharing
Integrating Land-Sea Interactions into MSP
Read more at: Maritime Spatial Planning Forum
Work packages and activities
Pan Baltic Scope had three interlinked work packages with 12 activities.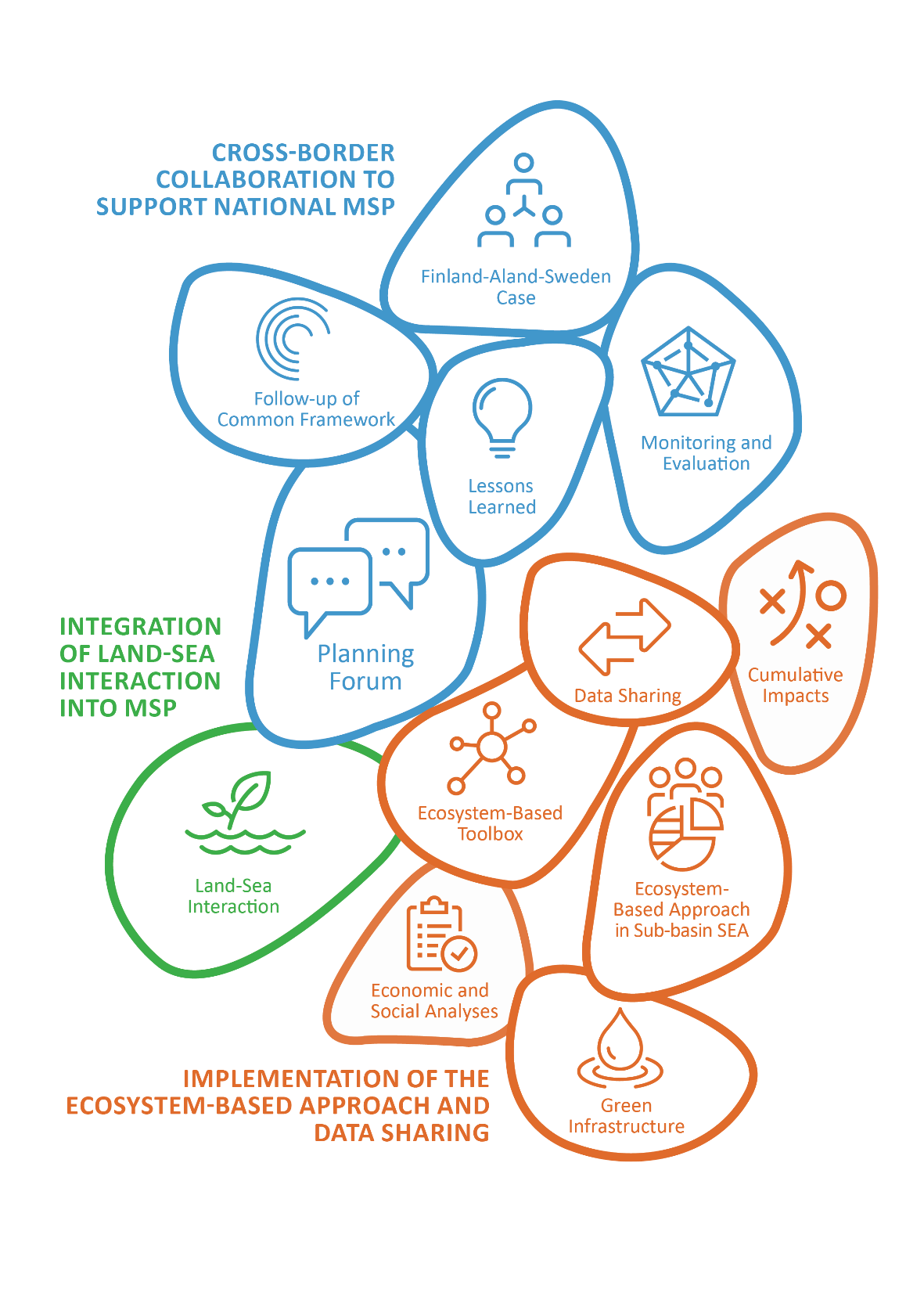 Finland – Aland – Sweden Case
Planning Forum for cross-border cooperation

Monitoring and Evaluation for Selected National Processes
Follow-up of Common Regional Framework
Lessons Learned
Ecosystem-Based Toolbox
Ecosystem-Based Approach in Sub-basin SEA
Cumulative Impacts
Green Infrastructure
Economic and Social Analyses
Data Sharing
Land-Sea Interaction

Project partners
Sweden: Swedish Agency for Marine and Water Management (SwAM)
Sweden: Nordregio
Gemany: Bundesamt für Seeschifffahrtund Hydrographie (BSH)
Poland: Urząd Morski w Szczecinie / Maritime Office in Szczecin (UMS)
Denmark: Danish Maritime Authority (DMA)
Latvia: Ministry of Environmental Protection and Regional Development of Republic of Latvia (Vides aizsardzības un reģionālās attīstības ministrija) (MoEPRD) –
Estonia: Estonian Ministry of Finance / Rahandusministeerium
Latvia: State Regional Development Agency, VASAB Secretariat (VRAA)
Finland: Baltic Marine Environment Protection Commission – Helsinki Commission (HELCOM)
Finland: Suomen ympäristökeskus/Finnish Environment Institute (SYKE)
Finland: Government of Åland