Swedish national Marine Spatial Planning
Sweden is developing three distinct marine spatial plans for its territorial waters and exclusive economic zone.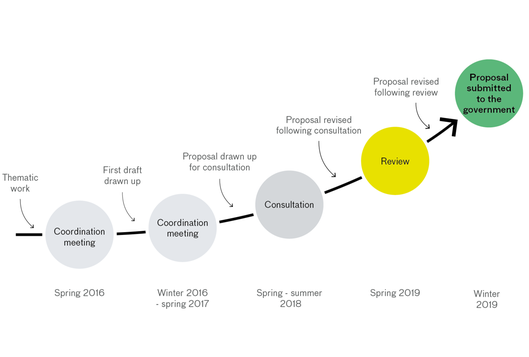 Plan proposals submitted to government
In December 2019 we submitted the plan proposals to the Swedish government. The government shall adopt plans by March 2021 the latest.
More information in English will be published here during spring. Meanwhile you can find documents and maps in Swedish on our Swedish pages.
Past review of plan proposals
We developed, supplemented and clarified our plan proposals based on the response from stakeholders during the consultation. A review took place in Sweden between March and June 2019.
Go to page Review of marine spatial plan proposals
Past consultation on plan proposals
During 2018 we consulted neighbouring countries on the three marine spatial plan proposals for Sweden (consultation versions).
Go to page Consultation on marine spatial plan proposals
Past dialogue on first sketches
From December 2016 until autumn 2017, we had an extensive dialogue with Swedish stakeholders. We invited neighbouring countries to a dialogue meeting in May 2017.
Basis for the consultation were sketches of plans. The sketches indicated what our maritime spatial plans might come to look like.
Road map for marine spatial planning
The road map report outlines Sweden's MSP Work.
You can read, among other things, about the extent to which we should carry out a strategic environmental assessment (SEA). But the report is available only in Swedish.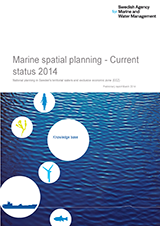 Report on Current Status
Sweden's marine resources and the demands on them, both now and in the future, is described in our report Marine Spatial Planning – Current Status from 2014.
This cross-sectoral perspective serves as a starting point for the first phase of national marine spatial planning.
Many Swedish stakeholders contributed to the report.
Three Planning Areas in Sweden
Sweden is developing spatial plans for its territorial waters and exclusive economic zone in three areas:
Gulf of Bothnia
Baltic Sea
Skagerrak and Kattegat
Authorities Involved in Sweden's MSP
Our agency is developing the plans, working together with other agencies and the county administrative boards while consulting coastal municipalities, NGOs and the public.
We've assembled a list of authorities involved in Sweden's MSP
MSP and Environmental Objectives
Marine spatial planning is an essential tool for achieving Sweden's environmental quality objectives.
We are using the tool Symphony

for assessing cumulative impact.
Projects providing evidence and collaboration