News about Memfis • 16 November 2023
In November, SwAM and Formas arranged a two-day conference – Marine environmental monitoring for future innovation and sustainability, MEMFIS. The conference brought together more than 120 participants from eight countries; decision makers and experts on marine monitoring from areas such as policy, management, research and innovation.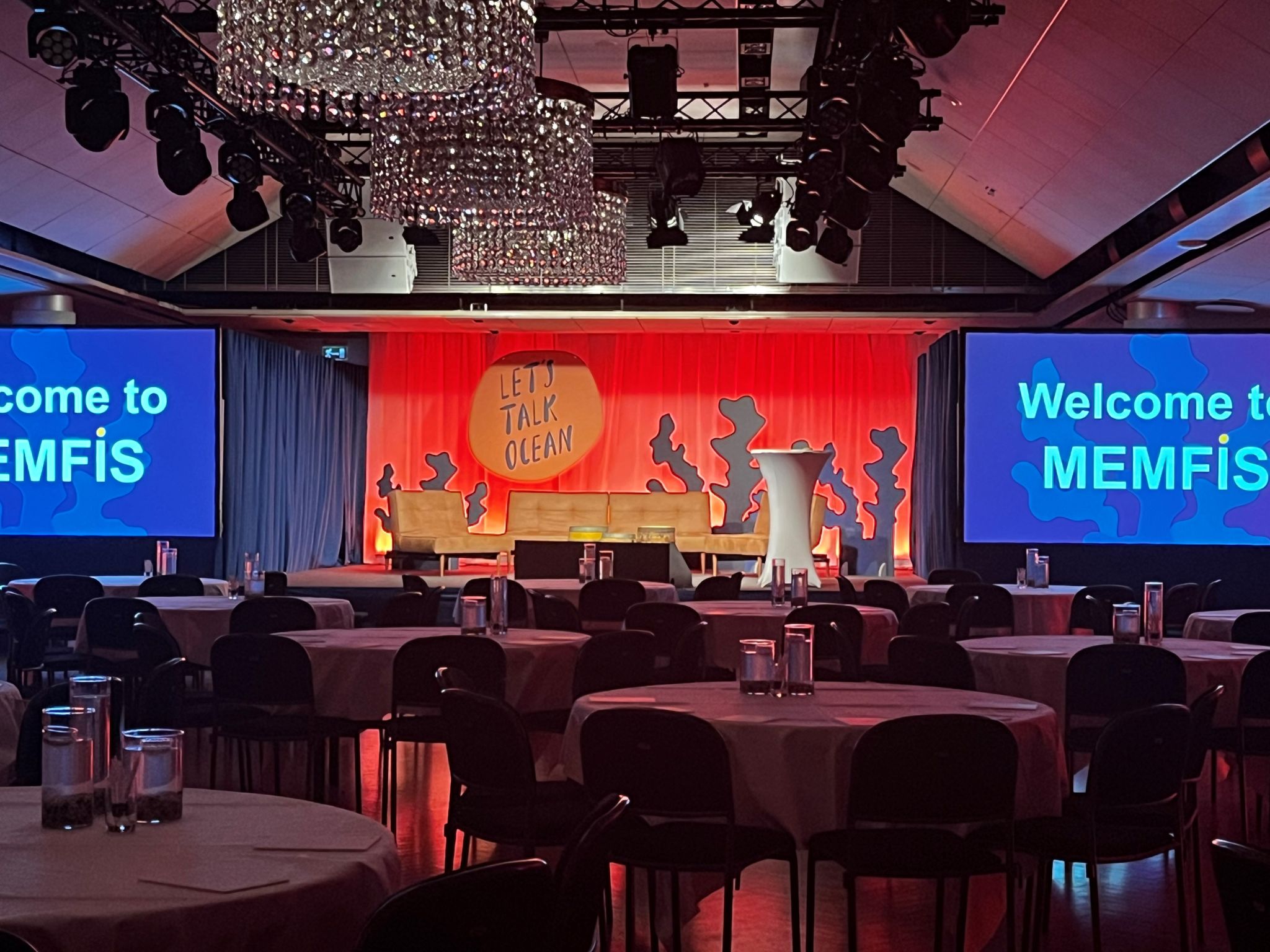 — MEMFIS 2023 emphasized the need for environmental monitoring in support of healthy seas and a sustainable blue economy. The conference demonstrated many inspiring examples of survey and research infrastructures as well as existing collaborations, and innovation initiatives. MEMFIS 2023 also resulted in about 40 action pledges to collaborate even more, to balance the use of the existing assets better and to boost innovation and uptake of new technologies. Together, we have the ambition, the knowledge and the infrastructure to deliver the environmental monitoring we need, for the ocean we want, say Thomas Klein, SwAM and John Tumpane, Formas.
What do we need to do?
Conferences are fantastic. You meet peers and you gain much knowledge. But at the end of the day, actions speak louder than words. And nothing is solved by asking for more funding alone. We all have a responsibility to start working towards a better tomorrow – and by definition that needs to be done today.
All speakers contributed to a whole what is our needs for collaborating around future marine monitoring. However, key note speaker Mike Elliot presented a few overall action points as food for thought:
Define the narrative. What are the objectives?
Educate society. How to educate about how increasing activities decreases assimilative capacity, thus creating unhealthy systems
Facilitate networking. From a broad societal perspective get academia, management, policymakers, industry together
Apply a holistic approach. We need to look at all the problems, not isolate according to different directives. SwAM from source to sea, bringing together marine and water management.
Make data more available. How do we make sure data are submitted, open available, interoperable and more quickly in order to benefit society better?
Achieve collaboration on a policy level (member states in a region)
The voice of the audience
At the end of the conference the audience was asked about their main take-outs from these two days. And it was clear – we need sustainable use of resources! Monitoring is very much needed to assure that we use, but not over-use, our natural resources. Accessible data is also pivotal as data is useless if not available, including known background and method.
We need to work more together, such as joint expeditions on research vessels and innovative use of new methods. But also include the public, citizen science can be a powerful tool.
It also became clear that we may need new monitoring methods such as ecosystem-based management and not just single parameters. Last but not least we need to share our expertise, our most single valuable resource by cooperate across borders, regional conventions and EU-projects. We need to know what is available; ships, labs, buoys, expertise and methods. Remove obstacles such as access to foreign waters for research vessels. In short – we need cooperation across borders!
Monitoring and follow-up cannot be totally separated and by gathering we can all inspire each other!
Please find below a list of action points from the audience at MEMFIS responding to the question: What can you do, and when?
Increased interagency collaboration
Cooperation organisation for research and monitoring vessels
Faster integration of usable real-time data into management decisions
Keep collecting the data we need for the ocean we want
We (Voice of the Ocean) need to reach out to users (SwAM, SMHI, researchers at. Al) to make our AUV glider data accessible and usable by the monitoring community
SwAM should facilitate research and monitoring activities on monitoring expeditions
Make use of the high-resolution data from new platforms and combine with vessels-based monitoring in order to use a multiplatform data-set
I pledge go support SwAM in applying the EU bio-diversity framework in any way I can
Evaluate more monitoring data
Collaborate more with other disciplines
Researchers need to better understand how government bodies work and what constraints they have besides the obvious aspect of cost. Otherwise, your message will not get through to the right people
Ensure smooth transition from traditional methods to new innovative methods
Continue to strengthen the collaboration with other monitoring institutes to share experience, methods and also in sampling and data handling
Implementing DNA sampling, extraction and amplification for different genetic markers at SMHI when funded ASAP
To optimize research vessels, use to make it affordable. Combining teams! No AI is needed do to so!
Arrange meetings with politicians on bio-diversity and its importance for society
We, the marine environmental research community, will work together with the Environment Agencies in NO, DK, DE & SE to develop a coordinated monitoring programme in the North Sea (and also a similar one for the Baltics)
I will suggest acoustic measurements in combination with other ongoing and future marine monitoring
Initiate Joint WSs with academy and management focussing on a specific question, for example incl. ecosystem management and tools to monitor and manage
We need to work towards comparable and interoperable date globally to understand change
SMHI will propose a project on using ocean models to evaluate and optimize the present offshore monitoring program
Reduce exploitation intensity. Let ecosystems recover naturally
Start international cooperation like DCF framework for fisheries management
Increased integrated monitoring. Gather as much different data when expensive ships are sailing
Knowledge need to result in actions that is remedial measures. High resolution information does not per se result in an improved environment. We need to use the information already available.
I will present the list of action pledges to the head of international bilateral climate and environmental cooperation at SwAM, to explore exchanges with strategic countries
To a larger extent reach out to the general public and decision makers on the state of our oceans and need for action, NOW!
I will do all in my power to stop people from making more "bla, bla, bla" at conferences and actually focus on important things
National program on autonomy related drones and AUVs are necessary to align the work and to address the important gaps
Increased and concrete collaboration with IOW, FMI and SYKE for environmental monitoring. SMHI, already ongoing but will increase 2024
Hold workshops between monitoring contract holders of the different countries to suggest how monitoring can be complementary
IOW will extend its observation programme from 2024 on to the northern Baltic Sea and closely cooperate with SMHI, FMI and SYKE
Will create a roadmap of standardised DNA-based intraspecific & community (eDNA) monitoring methods to explain how to meet different spatiotemporal biodiversity health indicators
Make a SWOT analysis of the increasing needs on less resources; for example, changing the monitoring to fulfil legal requirements
Automation
Please repeat this conference in a couple of years!
News about Memfis • 2023-11-07

Only two days left until MEMFIS.

News about Memfis • 2023-11-02

In a week the first international conference on the future of marine environmental monitoring will take place in Sweden with focus on innovation and sustainability. SwAM and Formas are happy to welcome participants from eight countries to two days of exciting talks, inspiring poster sessions and time for networking.

News about Memfis • 2023-10-26

The United Nations and UNESCO's Decade of Ocean Science for Sustainable Development – the Ocean Decade, provides a convening framework for a wide range of stakeholders across the world to engage and collaborate outside their traditional communities.