Recommendations and results when marine managers share results on conservation standards for adaptive management
Humans need nature to survive. Strong, resilient ecosystems is a must for social and economic development. We work to increase the economic benefits from the sustainable use of marine resources. Protection is one part of this.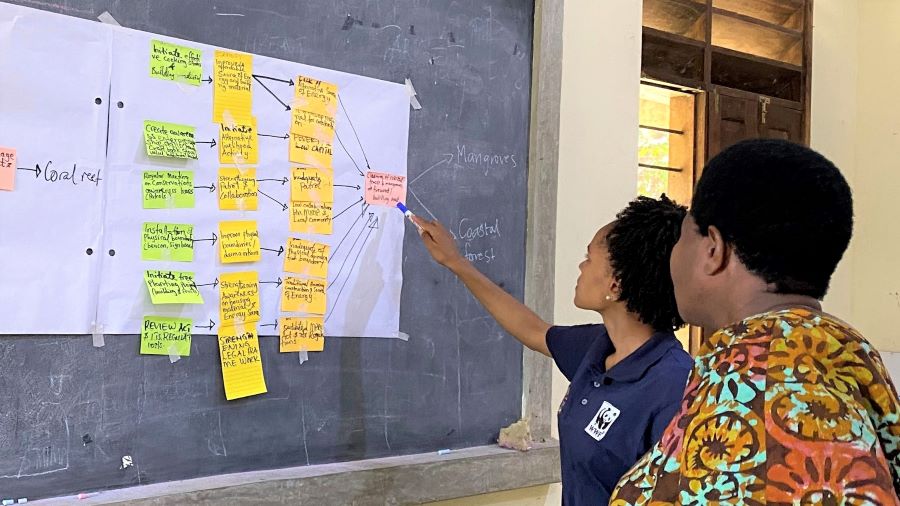 Marine managers in Madagascar and Tanzania has worked with SwAM for over a year with their management plans for marine protected areas, making them adaptive and operational. The ambition is a network approach to existing areas, and to designate new marine protected areas.
SwAM and the teams trained in the method Conservation Standards for Adaptive management of MPAs, and practised applying the method on their own cases. We combined workshops and exercises which were followed by coaching sessions with separate teams.
We work also within the WIOMPAN network of WIOMSA for the wider Western Indian Ocean region MPA initiatives.
Recommendations from the teams to other MPA managers in the region
"We recommend building capacity in adaptive management""
"The method can help you to produce stronger and more operational management plans"
"Can help you to practice adaptive management in MPAs"
Use the recordings and slides
The final results of the two-year work were presented on an online meeting with representatives of the WIOMPAN and other MPA specialists of the region.
Results of this first phase were presented, alongside two case studies from the WIO region:
Mafia Island Marine Park Team in Tanzania where Masanja Joran and Maria Pentzel presented their progress in revising the MPA management plan for the site.
National Park Nosy Tanihely in Madagascar where director Landisoa Randimbison, shared insights and recommendations after their work with adaptive management tools to revise their management plan.
Slides
Recordings
Give input to potential new project
Ideas were also shared for a second phase in a might-be SwAM Ocean #2 project, in preparation. Check that out in the first slide above if you are interested in discussing the scoping of a potential SwAM Ocean #2.