Challenges and good practice in implementing the Water Framework Directive in the Nordic countries

Conference report from the Nordic WFD Meeting 2015 in Gothenburg, Sweden.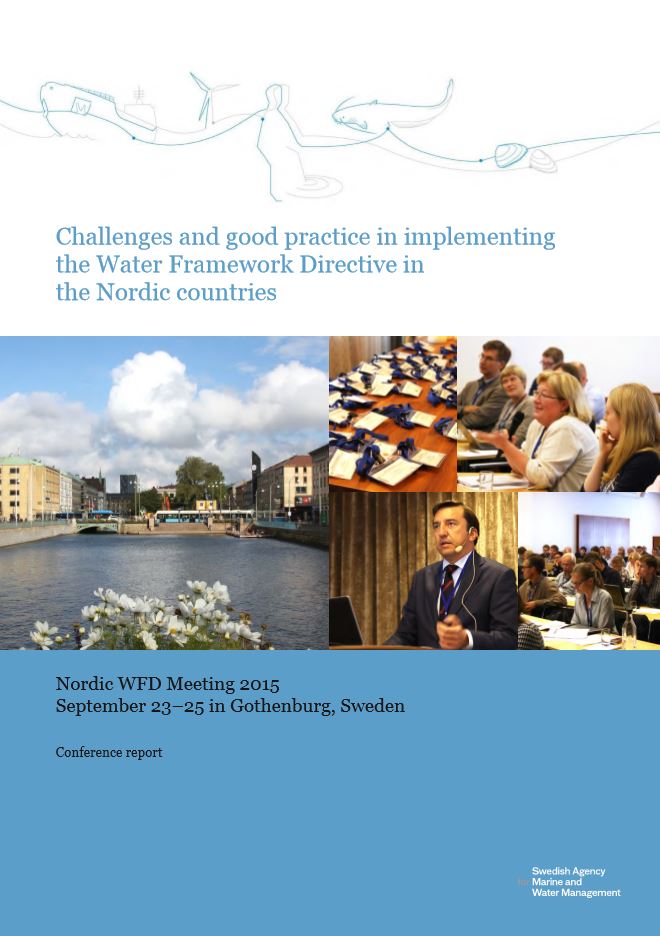 Summary
The Nordic WFD Meeting 2015 took place in the City of Gothenburg 23rd – 25th of September. The first day gathered over 100 participants from different authorities and sectors. There were representatives from the governments and environmental departments in Finland, Norway and Sweden, from regional and national authorities in Norway, Finland, Iceland, Ireland, England, Sweden and Denmark, and from the European Commission. There were also participants from the agriculture and hydropower sectors.
The conference shared experiences and discussed challenges and best practices. Working group sessions focused on characterization, economics, physical impact and implementation of measures. At the end of this report you find a list with possible task for future cooperation. An excursion in the drainage area of Viskan ended the conference, looking at on going work with concrete measures.
Many thanks to the organizers, speakers, chairmen and participants for taking the time to come to Gothenburg and contribute to the success of the event. This report is a short summary of talks and events at the conference.
Presentations
Presentations from day one, Wednesday 23 September, can be found below:
Welcome to Gothenburg and Sweden


Pdf, 608.3 kB.Director general of SwAM

The Commission's view of what is important for Nordic countries

Pdf, 348 kB.
European Commission, DG Environment

Implementation of WFD in Finland

Pdf, 968.9 kB.
Ministry of the Environment in Finland

Practical work with pressures/measures in Sweden, Norway, Finland

Pdf, 5.3 MB.
Stockholm City
Practical mitigation measures in Norwegian water bodies to reduce pressure – good practice examples from several sectors

Pdf, 3.7 MB.
Norwegian Environment Agency
Plans and Permits – the Construction of a Water Quality Standard

Pdf, 248.6 kB.
Finland
Hydropower and relevance to harmonisation of GEP/Water storage

Pdf, 2 MB.
Norwegian Environment Agency
How can we identify significant impacts on agriculture?

Pdf, 467.3 kB.
SwAM

Estimating benefits of river basin management planning

Pdf, 894.1 kB.
Finland

The costs and benefits of improving England's water environment

Pdf, 462.3 kB.
Department for Environment, Food and Rural Affairs, England

Integrating flood risk management and river basin management planning

Pdf, 1 MB.
Finland

New Challenges: Climate changes and adaptation are needed

Pdf, 1.3 MB.
Swedish Meteorological and Hydrological Institute

Panel discussion and reflections

Pdf, 262 kB.
Common challenges, solutions and further Nordic collaboration to fill gaps for next planning cycle