A Balanced Marine Environment, Flourishing Coastal Areas and Archipelagos
This objective is needed in order to protect the natural, cultural, and experiential values that the aquatic environments provide. This may involve the conservation of biological diversity and marine productive capacity or the long-term conservation of valuable cultural and historical environments. The objective is also necessary for the utilization of the marine environment to be carried out in a sustainable manner.
The North Sea and the Baltic Sea must have a sustainable productive capacity, and biological diversity must be preserved. Coasts and archipelagos must be characterized by a high degree of biological diversity and a wealth of recreational, natural and cultural assets. Industry, recreation and other utilization of the seas, coasts and archipelagos must be compatible with the promotion of sustainable development. Particularly valuable areas must be protected against encroachment and other disturbance.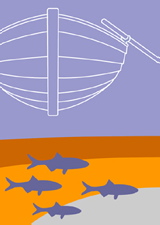 Sweden's marine waters, coastal areas and archipelagos have great natural, cultural, and experiential value but are exposed to a variety of disturbances. Eutrophication, pollution, overfishing, construction, shipping, and the introduction of alien species—these can, either separately or together, harm the environment.
How do we achieve this objective?
Many efforts are required at both national and international levels. In particular, actions must be taken to improve water quality, create more protected areas in the marine environment, and reduce the bi-catch of marine mammals and birds by fisheries. Also needed are an adjustment of fisheries to sustainable levels and a reduction in the spread of alien species.
The objective is dependent upon efforts in other environmental quality objectives, such as Zero Eutrophication. In addition, implementation of the EU Marine Strategy Framework Directive is important for success. The work within international conventions like HELCOM and OSPAR is strongly connected to this objective as well as the EU Common Fisheries Policy.