Treatment techniques for pharmaceuticals and micropollutants in wastewater
Description of eight projects that have received funding from the Marine and Aquatic Environment Grant for 2014-2017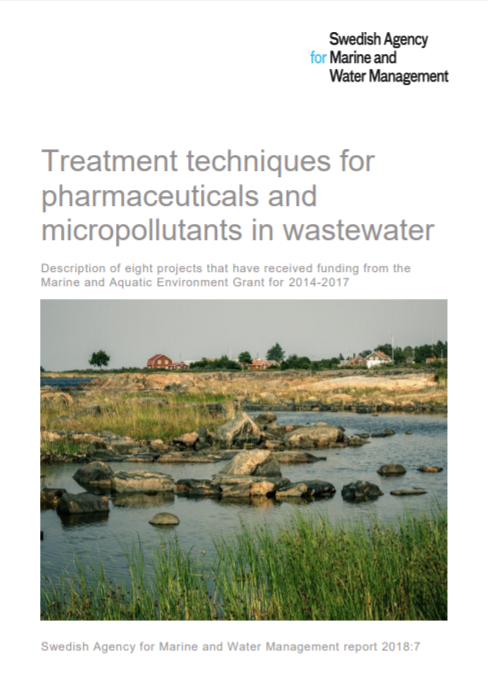 Sammanfattning
The Swedish Agency for Marine and Water Management has on behalf of the government funded eight projects with a view to evaluating treatment methods that could be applied in practice in order to reduce potentially environmentally hazardous substances that are not removed by present treatment processes at municipal wastewater treatment plants.
Six different research and development projects have been completed under the management of researchers linked with RISE, Tekniska Verken in Linköping, Kristianstad University, IVL Swedish Environmental Research Institute, Umeå University, Lund University and KTH Royal Institute of Technology. Municipal water supply and sewerage organisations and companies have played key roles in the various projects. Extensive experiments have been performed, from laboratory scale to long-term, full-scale trials at wastewater treatment plants in various parts of Sweden.
In addition to these projects, a further two projects have been completed within the scope of the call for projects. An inter-calibration study was carried out at Kristianstad University with the aim of achieving enhanced analysis quality and increasing awareness of problems associated with trace analysis of pharmaceutical residues. At Lund University another project, based on literature studies and a study trip to Switzerland and Germany, was conducted to pass on information and operational experience from sewage treatment plants supplemented with advanced treatment facilities. The results from the projects show that techniques are available at present that can be applied at Swedish municipal wastewater treatment plants with the aim of removing micropollutants of different types, including pharmaceutical residues.
The technical solutions evaluated are mainly based on ozonation or filtration through activated carbon, as well as various combination solutions. In most cases, the solutions have been tested and evaluated in close cooperation with staff at wastewater treatment plants: this is a prerequisite to be able to evaluate the techniques in a credible manner and thus to be able to develop well-functioning large-scale solutions. One of the projects has also studied systems involving sorting at source. This work has paved the way for new research and development projects where the involved parties can assist with and lead development of the wastewater treatment of the future. This concerns, for instance, ecotoxicological effects of ozonation, development and understanding of applications based on activated carbon and development of analysis techniques.
The government assignment and work on the various projects have created a strong foundation that will aid the introduction of advanced treatment at Swedish wastewater treatment plants. This report briefly describes the background to the work and the results from the projects in popular scientific form. Costs have been produced for various treatment techniques and summarised in the report, and further reading is suggested.