Use, blue growth and fisheries
We support efforts to increase the economic benefits from a sustainable use of marine resources. We focus on small-scale fisheries and work on tenure and user rights, local blue growth, trade in fisheries services and biodiversity in areas beyond national jurisdiction. Transparency and participation makes fair and good use possible.
Supporting Local Blue Growth
We collect and provide knowledge on what key infrastructure and institutional factors need to be in place for local economic blue growth in developing countries, with a specific focus on the Western Indian Ocean region.
We have conducted four studies:
Examples from grey literature
Evidence from scientific literature
A spatial analysis that explores the role of infrastructure in case studies in the Western Indian Ocean region
Swedish experiences turned into applicable learning
This study examines preconditions for the extraction of marine resources to benefit local communities in the Western Indian Ocean.
17 successful cases have been identified that concern fisheries, aquaculture, conservation and seaweed farming, using United Nation and World Bank literature. The cases focus mainly on small-scale activities.
The cases point to multiple key factors of success.
A common feature in multiple of the cases is the use of cooperative and co-management practices to reach more sustainable levels of resource use. The projects have resulted in stricter restrictions on access to fishing water, cooperation in monitoring efforts of illegal fishing activities, and stronger sense of ownership among fishers. Other forms of cooperation strengthen users' market power enabling access to inputs and markets as well as providing a forum for knowledge sharing.
Access to credit is very important where initial investments are needed to move into new business areas, such as aquaculture and value-adding activities. Access to credit is often a hindrance for the poor communities which often lack collateral to guarantee loan repayment, but where it is accessible there is potential to increase household incomes
Innovation and new technology have the potential to increase productivity in the blue economy. In two cases, easily accessible new technologies were developed which appear to both increase productivity and are easily implemented in small-scale enterprises.
For the aquaculture sector a number of conditions must be met for fish farming to be successful. There must be functioning supply chains for farmers to access seed and feed as well as the market. Functioning road infrastructure is required to facilitate access. Access to information and credit is important as aquaculture requires technical know-how and initial investments.
Lastly, infrastructure is recognized as a precondition for private sector investment and productivity growth in the fisheries sector. This includes fishing ports, docking and storage facilities, cold chains, logistic networks.
Preconditions for local socio-economic development in the blue economy

Pdf, 1.1 MB.
This study is a thematic review of scientific literature identifying prerequisites and factors enabling local blue growth in developing countries. Sectors in focus are fisheries, aquaculture, tourism and conservation.
The review include 90 scientific articles and involves systematic mapping, regression analysis and content analysis.
Value chains and social development matters
Results show that rising incomes and improved socio-economic wellbeing in coastal communities largely depend on the existence of well-functioning value chains and the communities' degree of social development. It also finds, maybe unsurprisingly, that sustainability of marine and coastal resources are associated with quality of resource management, coherence of policy and legal frameworks as well as the manner in which they are communicated.
Furthermore, inadequate resource management and incoherent policies and laws are associated with lower incomes, wealth and employment, this study finds.
Governance that enable local blue growth
A number of critical factors explaining what type and quality of governance that work as enablers are also identified:
governance frameworks that are coherent and reliable
leadership that is dynamic and legitimate
administration that is reliable
enforcement that is efficient all enable local blue growth according to results
But it doesn't stop there.
Communities need a say
Communities need to be given adequate opportunity to influence decisions. Because a number of cases show how policies and environmental regulations and other decisions affecting the livelihoods of coastal communities need to be adapted to local circumstances.
Coastal-community development also depends on the degree of social cohesion and equity in access to resources, as well as on capacity of individuals and organisations in both private and public sector.
Another conclusion is that local blue growth benefits from the existence of well-functioning value chains, markets that are open and accessible, and infrastructure that is adequate and well maintained.
8 recommendations to get local blue growth
Based on the results, this study proposes eight recommendations for consideration by authorities and development agents working for local blue growth:
Ensure that legal frameworks and policies affecting the blue economy are coherent, clear and predictable.
Support the development of well-functioning value chains for blue economy products and services.
Support the creation and development of organisations for blue growth in the local community.
Appreciate the importance of high-quality leadership.
Engage local communities in decisions affecting their blue economy.
Enhance the capacity and technical skills of individuals and institutions of the blue economy.
Provide and maintain the infrastructure necessary for local blue growth.
Build local blue growth using the whole toolbox – the above recommendations for advancement of local blue growth should not be viewed in isolation but addressed simultaneously.
Get the insights
Get the full insights from report Enabling local blue growth in developing countries.
Does the presence of basic infrastructure such as roads, harbours, energy and sanitation correlate with local blue economic growth and socioeconomic development in rural coastal communities in the Western Indian Ocean region? Yes it seems.
This study provides some valuable insights to help guide investment in rural coastal communities.
Relationships between basic infrastructure and socioeconomic development were examined using Principal Component Analyses, explained in the report.
11 cases were examined, in Kenya, Tanzania, Mozambique, Madagascar and South Africa.
The correlations observed do not necessarily imply causation.
The results indicate three main points:
1. There is a positive correlation between presence of basic infrastructure and economic wellbeing: The better the suite of basic infrastructure present in a community, the better its economic wellbeing.
Roads and supply of electricity are the most important types of basic infrastructure related to economic wellbeing.
2. Strategic planning is closely correlated with both economic wellbeing and social wellbeing: Communities that show evidence of being strategically planned tend to have higher levels of economic and social wellbeing.
3. The type and intensity of the marine economic activity communities engage in plays an important role in their economic wellbeing.
Communities engaged in:
tourism tend to have higher levels of economic wellbeing
aquaculture as primary economic activity have small populations and relatively low social and economic wellbeing
artisanal fishery largely lack basic infrastructure and indicate poor social and economic wellbeing
commercial scale fishery have more basic infrastructure present and greater social and economic wellbeing.
Tourism appears to have the greatest potential for driving blue economic growth in rural coastal communities, of the sectors investigated.
Fishery has great potential to facilitate economic growth of communities if it shifts from subsistence basis to a commercial basis. However, this shift would need to be carefully controlled and undertaken in a sustainable manner due to the fragile state of our marine resources, so as to not abruptly remove the basis for the community's livelihood, whether subsistent or commercial.
Communities need to be examined over time to adequately investigate whether basic infrastructure drives blue economic growth and socioeconomic development.
Get the insights
A spatial analysis of basic infrastructure as a prerequisite for local blue growth in the Western Indian Ocean region (PDF)

Pdf, 2.6 MB.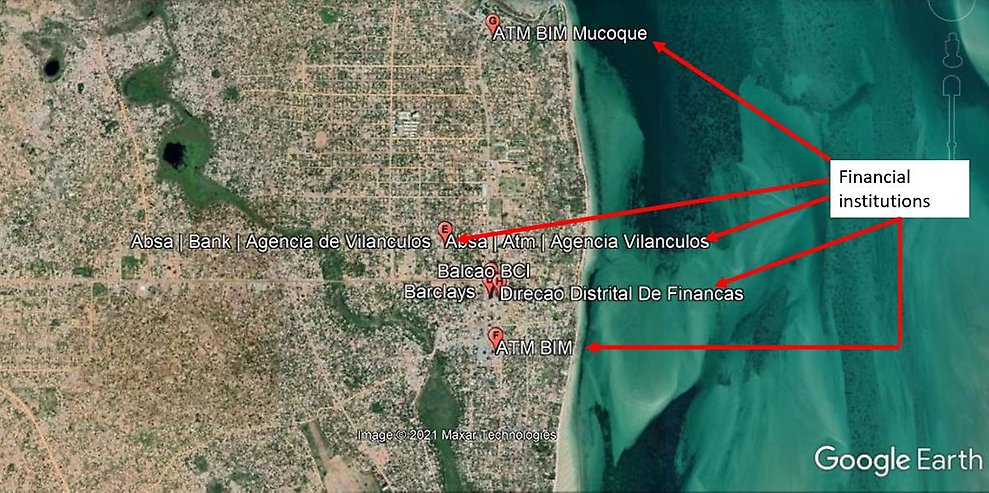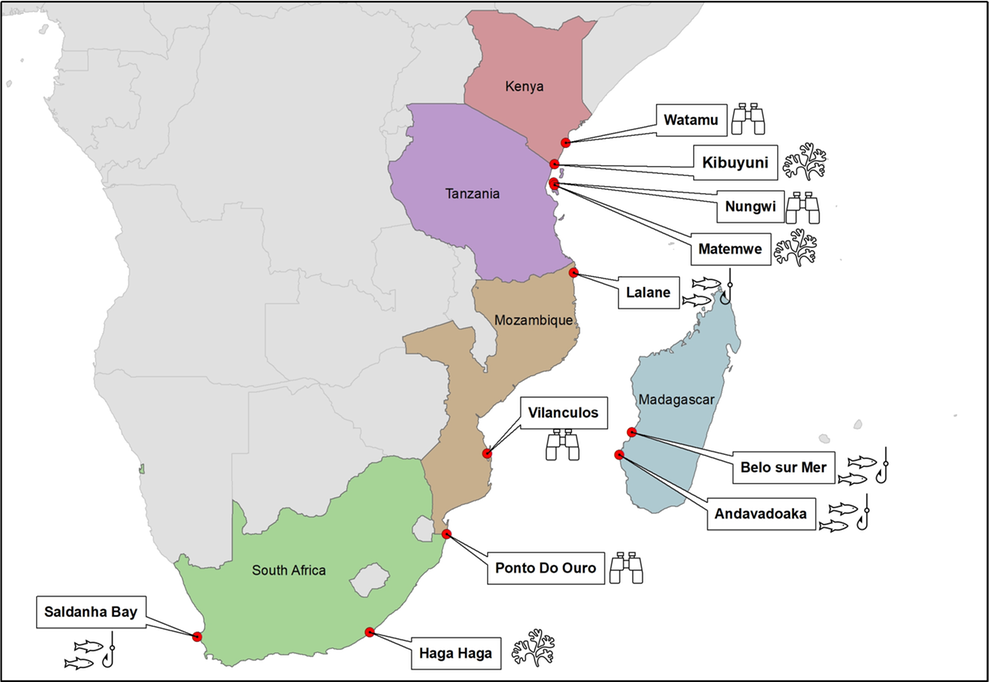 Blue Economy and Coastal Development – Sharing Swedish Experiences

Pdf, 2.8 MB.
This report is a study of seven complementary cases of illustrative Swedish experiences, where marine sectors, communities and authorities have collaborated on a local and regional blue economy and sustainable development in coastal communities.
Extracting key challenges, prerequisites, enablers and strategies.
Study aim to:
share state-of-the-art experiences from Swedish actors working with their own interpretations of blue economy and sustainable development agendas in coastal areas
map how they deal with challenges and exploit opportunities
share common lessons – including working strategies ­– to inspire and promote reflection
The seven cases cover a broad range of blue economy and conservation themes and different types of actor constellations varying geographical and institutional scales.
The cases include:
Three cross-border initiatives, for example the maritime Border Forum between Sweden and Norway
The pioneering Maritime Cluster of West Sweden by regional authorities, enterprises and knowledge actors
A cross-municipal coastal spatial planning initiative
The Symbiosis Centre developing local blue enterprise in a coastal municipality
Sweden's first marine national park
Conditions that help initiatives succeed
Some basic prerequisites and conditions help initiatives to succeed. These can be summarised under four thematic clusters:
mobilisation of mandate and ownership
necessary capacity and resources
relevant knowledge and know-how
place based and physical "hard" infrastructure
The results resonate well with the other three studies in SwAM Ocean and with findings from a number of fields of research and practice, where collaboration and integration across disciplines, boundaries and marine basins is needed, for example integrated coastal management, marine spatial planning, conservation, and rural development.
Initial strengths, weaknesses, opportunities and threats, challenges and related enablers, as well as basic prerequisites could be compiled in a number of common thematic clusters, suggesting for some overarching conditions for blue economy and sustainable development:
A systems perspective and collaboration of a multitude of different actors, and the development and sharing of relevant knowledge.
Collaboration to a blue economy based on local terms. The classical triple-helix of academia, business and government needs to be complemented by civil society - for legitimacy, knowledge, reasons, and a complete view on problems, needs and linkages.
Mandate and ownership, capacity and resources
Process management and leadership supporting and encompassing the process of collaboration and its content. Time and timing of activities are important. Skills and facilitation capacity.
Knowledge and know-how
Social and psychological aspects, encompassing for example awareness and engagement of key actors, building positive attitudes and trust . A "soft" condition easily neglected.
Supporting place-based aspects, including physical infrastructure.
Contextual factors requiring awareness and -analysis and related risk and opportunity management and continuous evaluation and adaptation to changes.
Results from these four studies will be synthesized into a policy-brief to aid further measures for supporting local blue growth in the Western Indian Ocean region.
Trade in Fisheries Services
We increase the knowledge in the role that trade in fisheries services play in value chains for blue food. Please contact us for information.
Benefits that make governments publish information on fisheries
We do a study to analyse market and non-market based benefits to incentivise governments to proactively publish information on marine fisheries management.
The study pursues three concrete objectives:
Improve the understanding of how incentives can and do influence governments to improve transparency on fisheries management
Identify real-world examples where the publication of government information on fisheries management – as determined by the FiTI Standard – led to improved government performance, for example enhanced revenue collection, or reduced spending.
Analyse market-based mechanisms, that is seafood certifications, seafood production policies, as well as international trade agreements regarding the existence and potential for incentivising the proactive publication of fisheries management information by governments
We work in the Fisheries Transparency Initiative, FiTI
We are a board member of the Fisheries Transparency Initiative international board.
Read about the Fisheries Transparency Initiative FiTI, and why sustainable fisheries need transparency
Sustainable fisheries need transparency!
Strong ecosystems is a must for social and economic development
Humans need nature to survive. Strong, resilient ecosystems is a must for social and economic development. We work to increase the economic benefits from the sustainable use of marine resources. Conservation is one part of this.